Watches and Clocks Collecting Software
Every person who collects things sooner or later faces an organization problem. What is the use of the staff you have collected if you can't find the item you need at once? This is the problem that can be easily solved with our software. If you collect watches and clocks, this is exactly what you need. It was created specially for you to make many tasks easier.
The world of collectibles may seem hazy for many, but it can be well arranged. Whether you collect vintage watches or new ones, clocks, or just items that are related to time, all information concerning your collectibles can be saved with the assistance of LignUp Multi Collector.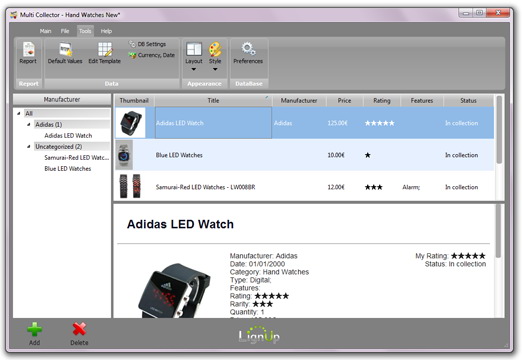 What are the advantages for collectors of watches and clocks?
A convenient database of information on every item will be always at hand, and you will not lose or miss anything as your collection of watches and clocks grows.
The variety of information that you find online can be attached to the image of your collectible thanks to the wise system you will discover when you use the software.
The software is equipped with all necessary options. For instance, you just take a photo of your item, and enter information to different fields that will never be lost. It will make your collecting activity more informational and interesting.
The software for the organization of watch and clock collections contributes to your communication with like-minded people. Collectors who are driven by the same passion will find out about your items and will share important information with you.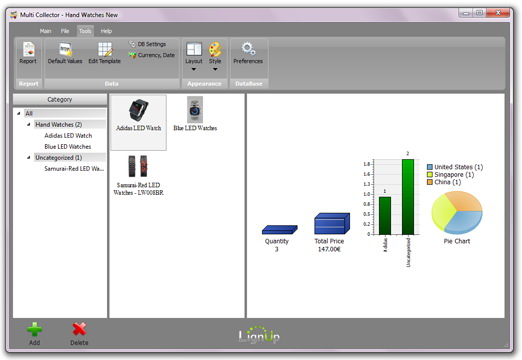 This is so convenient to have all needed information disposable at any time. A system of this kind turns your hobby into something that is not just a pleasurable pastime but gives a more scientific approach to your activity. It also makes collecting more enjoyable and less complicated.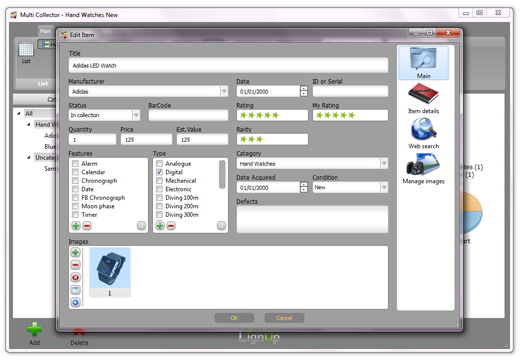 For instance, dual collectors can feel confused as their collection grows with time, and it is hard to memorize everything. Using the right software, you have a chance to remember the important information and not to skip all of the intricate details. The features provided by this software let you narrow your collection of watches and clocks by designer, material, or some other parameter.  You can also use this software if you collect some other items, not just time-related items. Use it when you collect stamps, coins, antique pieces, and etc.
Are you impatient to try? :)
Try LignUp Multi Collector Now! - FREE version available!