LignUp Multi Collector Ultimate Pack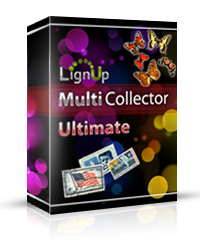 -50% ON EVERY PURCHASE
LignUp Ultimate MultiCollector license is a unviresal serial number for any collecting and organizing related software from our site. This includes all already published and all software that will be available in the future. By purchasing this license, customers will not have problems in the future, and are not worried about chossing collecting programs - they are all available at any time.
Customers with ultimate license are able to install and use organizing programs on 2 PCs (2Win, 2Mac or Win + Mac). License is attached to computer, all software should be used on same PCs.
Download each product separately, from their description pages. Use same serial to register all installed programs.
Organizing programs available now:
LignUp Stamp Search - 1 Year License
Buy ALL collecting software right now! Save >50% on bulk purchase!
LignUp Ultimate Multi Collector License $79.95 $39.97 (All collecting software from LignUp)
Bonus: 2nd computer license
LignUp Multi Collector VIP for Mac & Windows $199.95 $99.98
Ultimate pack for VIP customers.
Bonus: +5 computers license
VIP license includes:

Box with CD (2-4 weeks shipment)
Priority features request
Extra priority updates
Template & Report Creation design request
365/7 days 1st priority support
Support and contact with developers and CTO
Direct help on your PCs using remote desktop access