LignUp Multi Collector Manual
1. Starting with new collection
To start working, simply create new database.
Execute LignUp MultiCollector and choose "Create New". Or use application menu File->New command.
A. Choose database location and DB name.
B. Enter your collection name.
C. Select your collection type. Use one of existing collectibles, or choose 'Custom' for different type.
Mark 'Customize structure' to customize fields (this can be done later).
D. Choose one of available icons, or press 'Custom Icon' to add your own image as DB icon.
These steps are only for custom structure or custom collectibles.
You can request any new collectibles by email request to our support team. This is always for free and will be done same day.
E. Click 'Next'.
F. Use template editor and customize fields.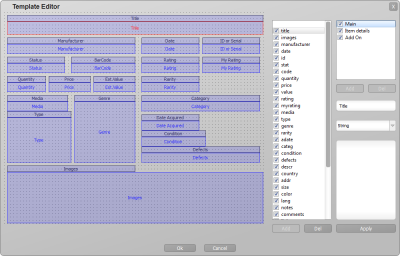 Select any field, change its title and field type. Then click on 'Apply'. Repeat for the rest of the items on all of the pages.
Choose the unwanted fields and click on 'Del' to delete.
Select new custom items from list and click 'Add' to add new field on current page.
Click 'Ok' and confirm template.
G. Change names of fields, as required for your collectibles.
H. Click 'Create'.
Done!
1.1. Fields types guide
Number - Any float number.
Integer - Integer number.
Date - Full date (day, month and year).
String - 1 Line of text.
Text - Text with multiple lines.
Category - Drop down box with default values. New value can be added by simple typing in a text field part.
Fixed Category - Drop down box with default values.
TAGs (or Category Set) - List of categories/tags.
Rating - 5 stars rating.
Images - Images field.
1.2. Working with database
1.2.1. Setting default fields values
A. Open 'Default values' dialog using menu command Tools->Default Values
B. Set only fields, you wish to have with preset values.
C. Press 'Ok'.
1.2.2. Addiing external files - PDF, videos, audio, manual, etc.
Multi Collector allows to add references (links) for external files stored on local storage. Simply drag & drop your files into 'Text' field.
Warning. DB doesn't store files, only links to your files!
1.3. Synchronizing between many computers
The easiest way to synchronize your data between various computers running Mac and Windows is to setup Dropbox.
Install Dropbox on all computers, create your Dropbox account.
Move your database into Dropbox, or create symlink for your database location using 3rd party apps.
3. Quick start Video Tutorial
Attention! Manual is being updated all the time. We are adding new information and tutorials according to customers responses and requests.
Feel free to request new features and send your feedback
http://lignup.com/support.html