As old paper filing method is in the past, we need some new solution. We have developed effective book inventory software that will help you to catalog your collection on Mac or Windows PC.
With our book inventory software catalog a large collection of books will not be a problem. LignUp Books collecting program is a set of tools and each of them serves one goal – to make the life of books collector easier.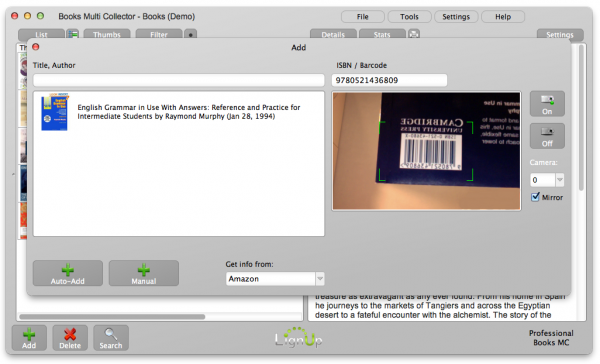 What makes our software so special? LignUp Book inventory program uses approach to scan the ISBN barcode of the book directly from webcam. Bar-code may seem a useless thing at first sight but do not hurry with this conclusion. It hides much useful information for us that will let us define the product. All you need is just to find the right means to read this data. Make use of book inventory software and it will introduce important parameters automatically. While others practice manual entering, performing monotonous and boring work, you can just enjoy your hobby and spend valuable time with bigger use. You will not have to scan covers of the books too as all this can be found by our program. It will enter such things as title, author and description of the book too.
There are many other features in Book inventory software. Using web camera you will get images that you need and even edit them with embedded software. You can easily search the database and find what you need fast, while the software will care about the updates concerning certain category of books. Let us suppose that you collect comics. The software is able to keep track of new releases for you.
Sharing is very important aspect that should not be skipped when software of this type is developed. The collections should be shared!
If you want to showcase your collection the software program will even convert the format of your collection. You can structure your exhibits any way you wish. Complicated filters will help you to sort out necessary items with further conversion to HTML format in case you are going to publish it online. Internet sharing has never been easier. With automatic backup feature nothing will be lost. If you wish to present your collection on the website then no other way will be faster. The software is able to export your collection to HTML or PDF format.
The program performs many other useful things as well. Just look through the list of features to make sure how impressive it is. Applying them, you will notice that collecting became more pleasurable for you while tiresome routine, which is natural in collecting, is reduced to minimum.
We offer you just to try application and explore all these features for yourself. You will not want any other collecting software after you try LignUp Books Multi Collector!
Download the demo-version, evaluate it and look at the ergonomic interface with your own eyes!
Free Download
LignUp Books MultiCollector for MacOS
LignUp Books MultiCollector for Windows
Proceed to book collection software