1 - Change view of main screen - List / Cards
2 - Delete current (selected) items.
3 - Add new item
4 - Web search
5 - Search items in collection
6 - Additional Actions, Settings
Tap "Button 4" to open Web Search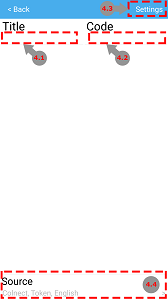 You can add item description and images from Web catalogs.
4.1 - Field to search by Title
4.2 - Field to search by Code
Also you can search item by one of these fields or search by both fields. For example search items by Title "Toronto", next search by Code "003", or by Title "Toronto" and Code "003".
Tap on the item to download its information. After completion you'll see item information. Tap button "Done" to save this item to your collection.
4.3 - Tap "Button 4.3" to open settings. For example, field "Year" will not synchronize, fields "Description" and "Country" will synchronize to matching fields.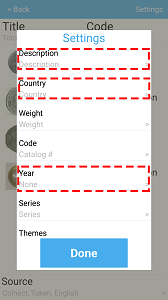 4.4 - Tap to open settings of searching source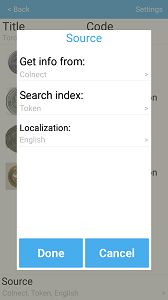 "Get info from:" - source of DB (Default Colnect. Available: Colnect, Amazon)
"Search index:" - index for searching on colnect.com (Default your chosen template; Example Token)
"Localization" - Colnect collection language