Guns and Weapons Inventory Software
Since long ago all collections, including weapon collections are organized manually. Many people continue collecting weapons and managing items in the same way in spite of the fact that contemporary conditions provide better opportunities. There are technical means that were notinv affordable for collectors many years ago. Make the challenging tasks easier when you collect weapon. Use LignUp Multi Collector for this purpose. If you collect weapon and guns, do not ignore information about this gun inventory software that turns collection of rare weapon items into the real art! Without appropriate organization you do not have collection actually. This is just a heap of valuable and rare stuff but no more than that. Therefore all collectors pay much attention not only to the search and acquisition of new items but to the way they are presented and displayed.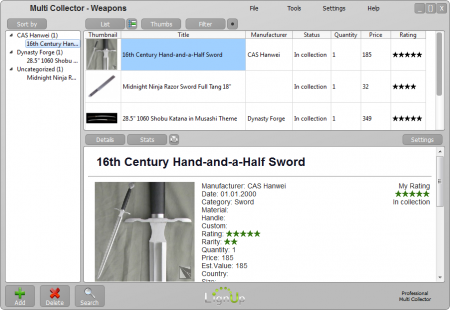 If you use software you can track all arriving information about the subject of your interest with no efforts on your part. Take advantage of the opportunity to organize your collectibles into a system in order not only to display them, but to present the most comprehensible information about your items.
You should do everything to find all you need at a slight glance. Weapon is usually displayed as décor to your place but you may be interested in presenting your collection to the person via Internet.
If you have a big collection but do not have software for its organization, this is what your collection needs! The use of software will enhance your collection greatly. Right assortment can help you to arrange it into groups that can be of interest to different people. You can expose the close-up image of every item after you make the photo of it. This feature is embedded into the LignUp Multi Collector alongside with many other things that you can find useful. A number of useful options and features make the software alluring for any collector.
Even if much valuable stuff is piled up at your place, there is little use of it if you are not able to find the right item at once. You need to categorize all your items correctly. But how to do it? With LignUp Multi Collector the problems of this kind are removed. It will let you find the right item at once. Keep big collection of weapon without fear of losing some item. Arrange virtual display of your weapon with assistance of this software. Gone are the days when all pieces of your collection just gathered dust and were demonstrated to rare visitor only. Now you can show them to any person all over the world if you follow our tips on how to organize your collection of watches and clocks with LignUp Multi Collector.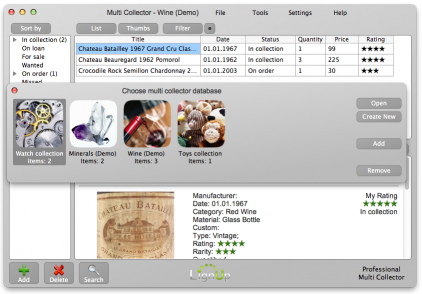 Similarly, other items can be also arranged in the same way. This is a very convenient tool that will make you more than an amateur. Collectors are known for the deep knowledge of the subject they deal with when they gather their collections. They can operate facts on almost professional level and can even compete with real professionals in that.